Click here to see photographs of the Moses Harper Monument at Mouth of Seneca
2021 Harper Reunion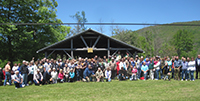 Dear Family and Friends:
As we continue to deal with all the issues with the covid 19 pandemic, it does look to be "opening up" for us to be more social. However, there are issues out there for consideration. First that we get vaccinations to protect us and others, second that we remain vigilant in protecting ourselves and others by wearing face masks and social distancing, and lastly that we have gatherings in a safe manner. Of great concern are our young persons who have not had the opportunity to get the vaccine and who we must protect. In talking with some of our Board members, they feel that we can have the Reunion. It will be up to you to decide what is safe for you and if you wish to attend. Please visit our website at www.jacobcharper.org for any updates that may occur between now and the date of the event.
Danie Ours keeps the family cemetery in great condition which is located further up the road on the farm. We try to maintain it with donations and a perpetual care fund. We encourage donations and bequests to keep the fund growing for future needs. The cemetery is for any Jacob C. Harper descendants and spouses who wish to be buried there.
Our meal will begin at 1:00 pm, on May 30,2021, after the family photograph and the blessing. It is a covered dish affair with lots of good food. Those attending from far off and do not have means of preparing a dish should not worry about coming. There will be plenty. Please register when you arrive so that we can keep our contacts up to date. Those who have email addresses will receive the newsletter and letter electronically. Those not having electronic connections will receive a mailing.
The Board of Directors will meet following the picnic. Anyone wishing to communicate and send donations can mail their donations to our treasurer, Eleanor Nestor, 7936 Dry Fork Road, Hendricks, WV 26271. We thank all of you for your donations and continued interest in our family.
Put this on your calendar and we look forward to seeing you there if the Lord is willing and the situation is stable! Stay well. Any changes and or cancellations will be posted on our website listed above.
Stelman E. "Buzz" Harper
President
Harper Cemetery Association